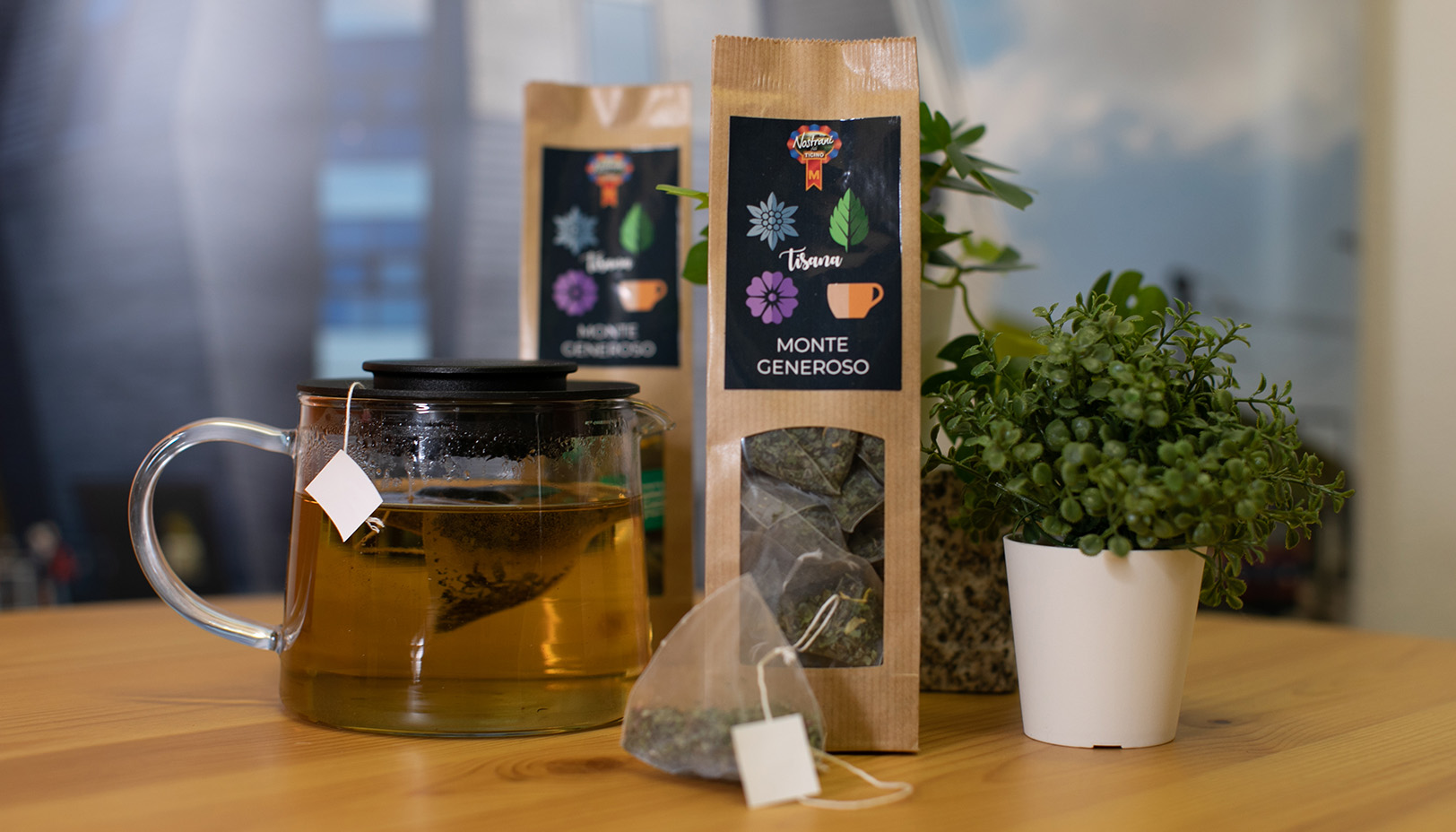 Monte Generoso herbal tea
Tisana Monte Generoso is an herbal tea, a unique blend of herbs grown, harvested and dried in a strictly organic manner, including the 'Queen of the Alps', the Edelweiss, which has found the ideal climate and soil to grow luxuriantly here in Ticino, specifically in Rovio and Arogno.
Thanks to its ingredients – peppermint, spearmint, lemon balm, bergamot mint, cornflower and edelweiss – the infusion is refreshing, aromatic and stimulating, while also performing an invigorating and digestive action.
As well as encapsulating the fragrances and flavours of Monte Generoso, the herbal tea reflects Ferrovia Monte Generoso's strong desire to dialogue with the local community and businesses that share its philosophy of sustainability.
This led to a collaboration with Simone Galli of Erbe Ticino and Gabriele Bianchi of Azienda Agricola Bianchi, who together created the Biodiversity Garden and the Edelweiss Garden project, where Queen of the Alps plants are grown organically and are Bio Suisse-certified. All visitors, following educational panels placed in the cultivation area, can learn more about its history and properties. Because knowledge educates people to respect and protect the environment in general and edelweiss in particular.
The price of every single pack of Monte Generoso herbal tea includes a contribution of CHF 1.- to myclimate Cause We Care initiative, which, together with our guests, we have been personally committed to since 2021.
The funds raised are used to support the Edelweiss Garden.
Tisana Monte Generoso can be enjoyed at the end of each meal at the 'Fiore di pietra' restaurant and the self-service cafeteria, or during our afternoon tea accompanied by sweet and savoury snacks. And since any time is a good time to drink one or more cups of Monte Generoso herbal tea, either loose or in bags, you can buy it at the Fiore di pietra shop and Camping Monte Generoso.